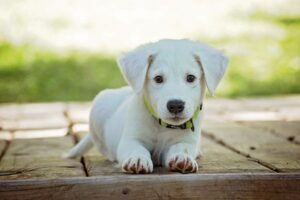 Welcoming a rescue dog into your home is an exciting time, but it can also be stressful if your new dog is afraid of people. Even the shyest of dogs will warm up to you eventually and become a part of the family.
As an all-around animal lover, Amy Elliot-Meisel spends her free time volunteering with local animal rescue initiatives and fostering shelter dogs. As someone who has experience with rescue dogs, she shares her tips for helping a scared dog.
The first step is remembering to have patience. Getting a shy or fearful dog to warm up to you is a process. Dogs can be fearful due to past abuse or because they weren't properly socialized with people.
Prepare your home for your new dog! Make sure that there aren't any ways your dog can escape, such as holes in the fence. Get a cage that is the right size for your dog, or some baby gates if they are afraid of the cage. Also, consider getting a no-pull harness instead of a collar for taking them on walks.
Get your dog into a regular routine so they know what to expect each day. Stick to a set time for feeding, sleeping, and taking them on walks.
Set aside a quiet room in your home specifically for the dog to have some space to themselves and settle.
Don't invite a lot of new people into your home at this time, as this can stress out a shy dog.
Let your dog explore your home at their own pace. They may want to spend a lot of time in their room for a while. Give them treats and praise when they do come out.